SLO Downtown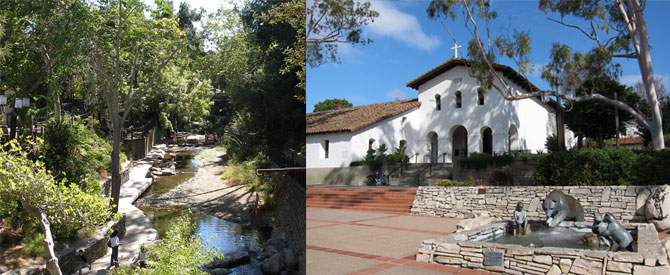 Mission Plaza: The jewel of downtown San Luis Obispo, Mission Plaza is home to several major community events such as Concerts in the Plaza, I Madonnari, Children's Day in the Plaza, Taste of San Luis and many others. The Plaza is at the base of Mission San Luis Obispo de Tolosa and follows San Luis Obispo Creek. Map.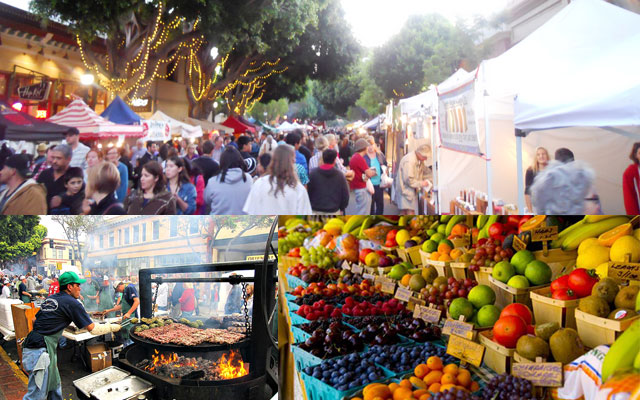 Farmer's Market: Held every Thursday night. San Luis Obispo has the central coast's largest farmer's market featuring live music, entertainment, stands with locally grown produce straight from the farm, and booths with many varieties of prepared food.  Find out why California is one of the richest agricultural regions in the world.
Firestone Grill: 6 min. walk. Fairly inexpensive. Good food. Full bar.
Woodstocks Pizza: 6 min. walk. Affordable. Beer and great pizza.
Novo: 12 min. walk. On the expensive side. Great food. Full bar. Creek-side seating.
Big Sky Cafe: 15 min. walk. Maybe SLO's most popular restaurant. Fresh market cuisine. Medium priced.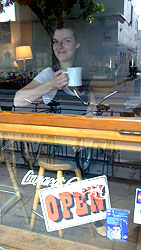 Sally Loo's: 3 min. walk.   Sally Loo's is your wholesome and organic breakfast and lunch HQ.  This cafe is beloved by vegetarians, organic-seekers, hipsters and just about anyone.
Linnaeas Cafe: 7 min. walk.  A café, gallery, and music venue in downtown San Luis Obispo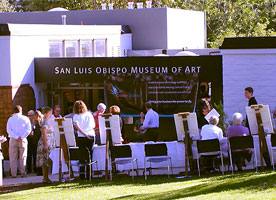 Museum of Art. Free Admission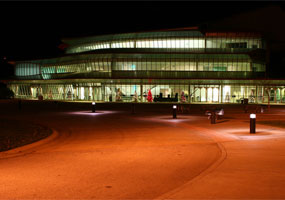 Performing Arts Center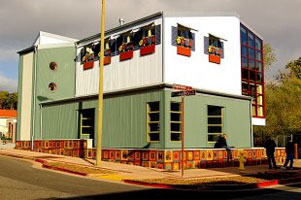 Children's Museum.  Map
Hikes: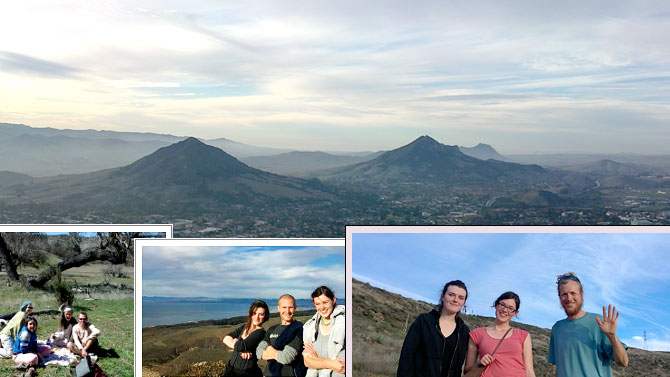 Terrace Hill: 7 min. walk to beginning of trail. Takes 18 min. to get to the top. Nice view.
Bowden Ranch: 4 min. walk to beginning of trail.  This is a steep trail.   100 feet higher than Bishop Peak.   Total distance 4 miles.   Great view of SLO.   Map.
Bishop Peak: most popular hike in SLO. the trailhead is 3 miles away. 1.5 hrs. climb to the top. Great view of SLO. Large boulders on top that are fun to climb.
Cerro San Luis aka Madonna Mountain: 25 min. walk to beginning of trail. 1 hour to the top. Great view of SLO.
Beaches:
Montana de Oro State Park: features over 8,000 acres of rugged cliffs, secluded sandy beaches, coastal plains, streams, canyons, and hills, including 1,347-foot Valencia Peak.  Naturalists and backpackers enjoy the solitude and freedom found along the park's trails. Massive dunes, caves, bluffs, rocky coastline and magnificent coastal mountains.  Many beaches, campsites, trails and horse trails. It is a great place to hike alone the secluded beaches.  Map.   Trail Map.
Avila Beach: Closest beach. Travelling south on Highway 101 12min. drive or 1 hour bike ride.  No public transportation.  Usually warmer than Pismo and Morro Bay.  Nice sandy beach. Pirate's Cove nudist beach is nearby.  Go to Port San Luis and drive your car on the pier. Lots of seals.
Morro Bay: North on Highway 1 (Santa Rosa St).  Travel time is 20 min. drive or 45 min. bus ride on SLORTA Bus #12. See Morro Rock, kayak in the bay, see otters and seals.  Kayak link.
Pismo Beach: Going south on Highway 101.  Travel time is 18 min. drive, 1.5 hour bike ride or 30 min. bus ride on SLORTA Bus #10, nice sandy beach, surfboard rentals, volleyball courts.
California Art Community Experience:
The California coastline is an artist's paradise.  With the colors, the scenes, the weather, and the accepting attitudes of communities, the artistic senses are free to express their vision.  California's coast is home to many creative artists and communities, providing many homemade and local products for you to enjoy.  Join us, and explore the art communities of California.
Big Sur to San Simeon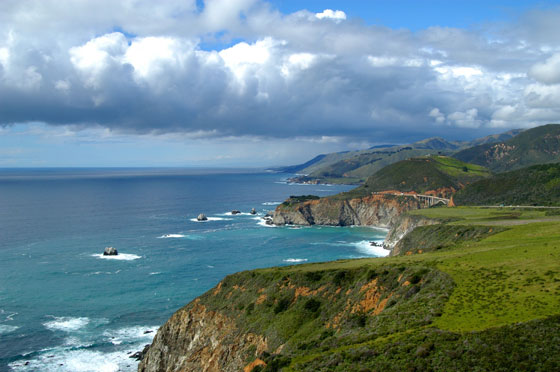 Explore the world renowned California scenic coastline, experience vast open spaces and national forests, and feel the spiritual California wilderness.
Big Sur Coast is world renowned as one of the best scenic drives and bicycle routes, as it follows each twist and turn of the rugged and beautiful California coast.
One day bicycle riding suggestion:
See elephant seals, secluded beaches, California Coastline and the charming town of Cambria.
Directions: Take bus #12 to Morro Bay.   San Luis Obispo county buses all have bicycle racks.  Transfer bus #15 to Hearst Castle.  Ride bicycle 6 miles north to "Piedras Blancas Elephant Seal Rookery".   See the elephant Seals.   Ride 15 miles south on Highway 1 to Cambria.   Take bus #15 to Morro bay.  Transfer bus #12 to San Luis Obispo.  Bus schedule link.
Be sure to follow bicycle riding safety guidelines and wear a helmet to have a safe and pleasant ride alongside traffic on Highway 1 (be sure you ride on the shoulder).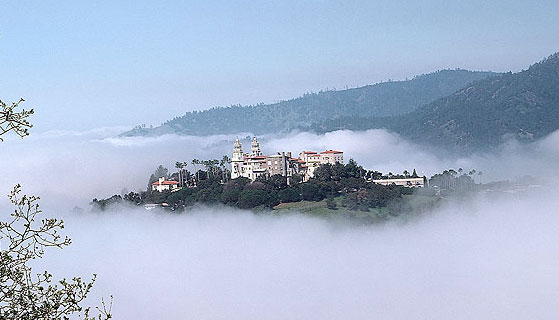 Hearst Castle: Located in San Simeon, which is 45 miles North of the hostel on Highway 1.  One hour drive or 1.5 hour bus ride on SLORTA Bus #12/15.   Get on bus #12 at the SLO Government center at the corner of Osos and Palm.   Transfer to #15 bus in Morro Bay to go to Hearst Castle.